| | | | |
| --- | --- | --- | --- |
| | | This content is exclusive to Pixel Gun 3D. It isn't in Pixel Gun World! | |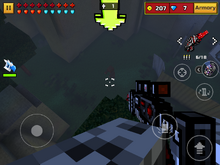 The Anti-Champion Rifle is a Sniper weapon introduced in the 13.2.0 update.
Appearance
It is a reskinned version of the Anti-Hero Rifle with Champion Armor-style colors.
Strategy
It has an astronomically high amount of damage, low capacity, and an average mobility. It is capable of a 1 shot body shot kill of a champion armored player.
Tips
One hit in the chest will be able to kill an max-armoured player in the latest 13.5.0 update, due to certain buffs to this weapon.
Use this similarly to the Anti-Hero Rifle.
Aim for the head for a guaranteed kill. Body shots also work, however, it will give you less points than a headshot kill.
Use this like any wall-break sniper, it works exactly the same. If you happen to spot a name tag from behind a wall, then try aiming directly below the name tag. With enough skill and practice, you can easily headshot the players and kill them though the wall.
Use the rifles 10x zoom in map's such as Ant's Life to maximize the gun's lethality and accuracy.
Remember that you can shoot through walls. If you see an opponent's name, shoot just below it, and you should hit their head through the wall.
In Flag Capture, if the other team happens to have taken your flag, aim a bit lower for the flag for a chance to kill the flag-bearer, saving the flag temporarily and getting you extra points.
In Sniper Forts, this is capable of a 1 shot body kill, maxed out.
If upgraded enough, it can be capable of killing someone with one headshot.
Counters
Try strafing around the user with a high fire rate weapon.
Try to catch its users off guard with a melee weapon.
Use area damage weapons.
Sneak up on them using the Sword of Shadows or the Stealth Bracelet, then attack.
Theme
Champion themed.
Supported Maps
Weapon Setups
Trivia
Sniper

= Complete

Category page