| | | | |
| --- | --- | --- | --- |
| | | This content is exclusive to Pixel Gun 3D. It isn't in Pixel Gun World! | |
| | | | |
| --- | --- | --- | --- |
| | | This is a removed content. It is no longer available in Pixel Gun 3D. | |

The Automatic Peacemaker M2 was the 2nd form of the Automatic Peacemaker M1. It could be found in the Primary section in the Armory.
Appearance
It has a black quad barrel setup, with orange at the end and beginning of the gun. It has a very large orange drum clip.
Use
The Automatic Peacemaker M2 was a machine/automatic gun and is used by holding the attack button. The ammo that it started out with is 150 / 0. Maxed out, it was 150 / 300. The ammo packs gave 150 bullets each. The Automatic Peacemaker M2 was a gun that has tremendous fire rate and capacity.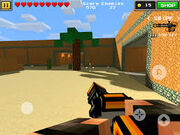 Trivia
It is the only gun that has two stats that are both 10.
This was based off of the M134 Minigun.
It was not very advisable to carry this machine/automatic gun while running and hopping because of it's heaviness.
This gun, along with the Automatic Peacemaker M1, were removed from the game as of version 8.1.0, leaving only the Automatic Peacemaker M3, which was renamed to Automatic Peacemaker.
Removed Content

Weapons

Primary
Backup
Melee
Special
Sniper
Heavy

Maps

Wear

Gadgets
Modes
Craft Items
Other

= Complete

Category page
Ad blocker interference detected!
Wikia is a free-to-use site that makes money from advertising. We have a modified experience for viewers using ad blockers

Wikia is not accessible if you've made further modifications. Remove the custom ad blocker rule(s) and the page will load as expected.