| | | | |
| --- | --- | --- | --- |
| | | This is a removed content. It is no longer available in Pixel Gun 3D. | |
| | | | |
| --- | --- | --- | --- |
| | | This content is exclusive to Pixel Gun 3D. It isn't in Pixel Gun World! | |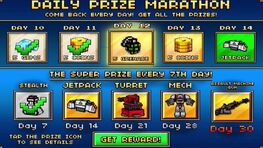 The Bonus Marathon, the former version of the "Lucky Chest", also called the "Daily Prize Marathon" was a feature that was similar to the Lucky Chest introduced in the 9.3.0 update.
Description
The Bonus Marathon can be used once per day. The prizes were mostly either

,

or Frag Grenades. Every week (or 7 days), you receive a super prize. Every month (or 30 days), you get the best item from the Bonus Marathon. There is a checkmark on the received items.
It also showed the super prizes, which are usually earned every week, or 7th day. Tapping on the prize icons would give you minor details about each super prize. The text of "Day 30" is red, which means that in the 30th day, you receive the best prize. Not coming back every day will not make the Bonus Marathon reset.
Prizes
The prizes were:
Day 1: 5
Day 2: 5
Day 3: 5
Day 4: 5
Day 5: 5 Frag Grenades
Day 6: 5
Day 7: 1 Stealth Potion
Day 8: 5
Day 9: 5
Day 10: 5
Day 11: 5
Day 12: 5 Frag Grenades
Day 13: 5
Day 14: 1 Jetpack
Day 15: 5
Day 16: 5
Day 17: 5
Day 18: 5
Day 19: 5 Frag Grenades
Day 20: 5
Day 21: 1 Turret
Day 22: 5
Day 23: 5
Day 24: 5
Day 25: 5
Day 26: 5 Frag Grenades
Day 27: 5
Day 28: 1 Mech
Day 29: 5
Day 30: 5 Mechs
Trivia
As of the 11.2.0 update, this was converted into the Lucky Chest.
In the 9.4.0 update, on iOS, instead of temporarily receiving the Assault Machine Gun on the 30th day, you receive 5 Mechs.
Removed Content

Weapons

Primary
Backup
Melee
Special
Sniper
Heavy

Maps

Wear

Gadgets
Modes
Craft Items
Other

= Complete

Category page
Ad blocker interference detected!
Wikia is a free-to-use site that makes money from advertising. We have a modified experience for viewers using ad blockers

Wikia is not accessible if you've made further modifications. Remove the custom ad blocker rule(s) and the page will load as expected.