| | | | | |
| --- | --- | --- | --- | --- |
| | | | This tutorial is a featured tutorial, which means it is identified as one of the best tutorials produced by the Pixel Gun Wiki. | |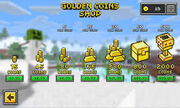 Ever since the 4.4 update,
coin
farming is easier than ever!
However, many updates later, RiliSoft has patched coin farming, making coins harder to obtain. Don't worry, there are multiple methods how to earn easy coins! In addition, if you want to level up, this tutorial has

methods too!
Equip your best Weapons, Wear, Pet and Gadgets and fight players, then keep on going first place, you will normally earn 3

and 15

.
You can do the same method, but everytime a match finishes, leave the server and go to a different server, as you will usually have less time to fight during matches. Be sure there aren't any tryhards or players who have scores that you can reach in different servers.
You can do the same method, but everyday, you can earn double the rewards in all modes for the first time you play in a day. It's suggested to play all modes at least once, if you want to earn extra

.
Ad blocker interference detected!
Wikia is a free-to-use site that makes money from advertising. We have a modified experience for viewers using ad blockers

Wikia is not accessible if you've made further modifications. Remove the custom ad blocker rule(s) and the page will load as expected.