| | | | |
| --- | --- | --- | --- |
| | | This content is available in both Pixel Gun 3D and Pixel Gun World! If this is a game content, its counterpart is described in another article! | |
This article describes a Pixel Gun 3D weapon. If you are looking for the same weapon in Pixel Gun World, see Dual Machine Guns (PGW).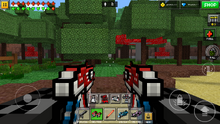 The Dual Machine Guns are a Backup weapon introduced in the 9.0.0 update.
Appearance
This weapon share slight resemblance to the Bolt Pistol from Warhammer 40k and the Czechoslovakian Skorpion vz.61 with a skull on the sides and a red, white, and blue color palette and is very patriot themed. It includes a huge ammo magazine with red and white vertical stripes. This weapon has no stock or attachments.
Strategy
It has a decent damage with a big ammo clip (Before 9.0.4 it was 100/300 and after it it holds 70/360.
Tips
It serves as a very capable weapon against players at close to (with practice) long ranges.
It can be used to gradually tear down armor.
Counters
Pick off its users from long ranges.
Upgrades
Theme
Patriotic themed.
Supported Maps
Any close range to medium range map.
Weapon Setups
Equip a long ranged weapon.
Trivia
Backup

= Complete

Category page
Ad blocker interference detected!
Wikia is a free-to-use site that makes money from advertising. We have a modified experience for viewers using ad blockers

Wikia is not accessible if you've made further modifications. Remove the custom ad blocker rule(s) and the page will load as expected.