| | | | |
| --- | --- | --- | --- |
| | | This content is available in both Pixel Gun 3D and Pixel Gun World! If this is a game content, its counterpart is described in another article! | |
This article describes a Pixel Gun 3D weapon. If you are looking for the same weapon in Pixel Gun World, see Dual Machine Guns (PGW).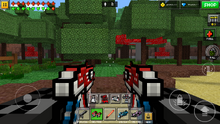 The Dual Machine Guns are a Backup weapon introduced in the 9.0.0 update.
Appearance
This weapon shares a slight resemblance to the Bolt Pistol from Warhammer 40k and the Czechoslovakian Skorpion vz.61 with a skull on the sides and a red, white, and blue color palette and is very patriot themed. It includes a huge ammo magazine with red and white vertical stripes. This weapon has no stock or attachments.
Strategy
This weapon deals relatively high damage, a high firing rate, average mobility, and a relatively high ammo capacity.
Tips
It serves as a very capable weapon against players at close to (with practices and skills) long ranges.
It can be used to gradually tear down armor.
This weapon can deal proficient damage and will shred enemy players when delivering headshots.
Mobility wise, this weapon is not very reliable when it comes to swift escapes. It is recommended to use any other weapon for mobile uses.
Counters
Pickoff its users from long ranges.

However, keep in mind that an experienced user can use this weapon in long ranges as well.

You can outgun this weapon by using area damage weapons or other high damaging weapons. Weapons such as the Shotgun Pistol, Heavy Shotgun or even the Automatic Peacemaker (PG3D).
Upgrades
N/A
Theme
Patriotic themed.
Supported Maps
Any close range to medium range map.
Weapon Setups
Equip a long ranged weapon.
Trivia
It is one of the ten weapons that are dual-wield, the others being the Turbo Pistols, the Dual Uzi, the Red Twins, the Dual Machete, the Dual Revolvers, the Dual Shotguns, the Dual Laser Blasters, the Romeo & Juliet and the Dual Hawks.
In the 9.2.3 update, it was nerfed however the price was also reduced.
In the 13.5.0 update, it was given a combat level of 8 and the ammo capacity has been changed to permanently stay at 70.

In the 14.1.2 update, this weapon has gotten severely powercrept.

Since the release of the 15.1.0 update and the subsequent return of the old upgrade system, however, this weapon has been buffed to a 12 shot kill if fully upgraded.
Backup

= Incomplete

Category page