| | | | |
| --- | --- | --- | --- |
| | | This content is exclusive to Pixel Gun 3D. It isn't in Pixel Gun World! | |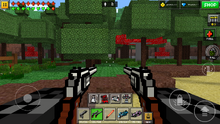 The Dual Revolvers are a Backup weapon introduced in the 9.0.4 update.
Appearances
There is a brown handle on the bottom with a small sliver barrel (the revolvers).
Strategy
Tips
Use it in medium-close ranges. Aim for the head for an easy kill.
This can be used to pick off melee users.
Counters
Attack from long ranges.
Ambush its user while his attention is diverted/focused onto another player.
Quickly kill its users before he can kill you, especially if you have low armor.
Upgrades
Theme
A U.S Western cowboy and early 1900's & mid 1800's.
Supported Maps
Any medium to short distance maps. Such as Pool Party.
Weapon Setups
Have a scoped weapon to attack from long ranges then use the revolvers to finish the target off.
Trivia
This is based off of the Smith and Wesson Model 29 Revolver.
There is an error with the capacity. Normally, with 2 revolvers you would get 12 bullets, but this holds 16 with 8 in each gun, like the Steam Revolver.
In the 10.0.0 update, it received an extra upgrade.
The Dual Revolvers is one of the first dual weapons introduced into the game, sharing its status with the Dual Machine Guns as the two original dual weapons being released in the 9.0.0 updates.
It currently is one of 9 weapons that are dual wield, alongside the Dual Uzi, Dual Machine Guns, Dual Hawks, Dual Shotguns, Red Twins, Dual Laser Blasters. Multitaskers. Turbo Pistols, Dual Machete, and the Emperor's Servants.
This weapon, unlike the Old Revolver, has no barrel cycle animation.
Its sound effect modified in the 12.1.0 update.
Backup

= Complete

Category page