| | | | |
| --- | --- | --- | --- |
| | | This is a removed content. It is no longer available in Pixel Gun 3D. | |
| | | | |
| --- | --- | --- | --- |
| | | This content is exclusive to Pixel Gun 3D. It isn't in Pixel Gun World! | |

The Evil Pig Hammer is a melee weapon. It has been removed in the 10.0.0 update.
Appearance
It is the normal Pig Hammer , but the pink is replaced with green and it has red eyes. The handle also has white stripes that resemble a spine or a backbone.
Use
The Evil Pig Hammer is a melee weapon. Due to its slow rate of attack and high damage, it is best to use it for backstabbing.
Trivia
Before the 8.2.1 update came out, this was the final upgrade for the Pig Hammer.
It used to be called the Zombie Pigman Hammer before issues with Mojang trademarking it.
The face on the hammer resembles the boss in Sky Islands.
It also used to be in the Heavy section of the Armory, with the face of the Zombie Pigman from Minecraft.
It 'oinks' when it swings.
In the 10.0.0. it has been removed from the Armory. However, whoever owned the hammer still owns the hammer.
On other players' screens, it appears as a Combat Knife, however, on the killcam screen, it appears as the Evil Pig Hammer.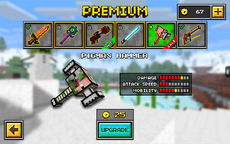 Removed Content

Weapons

Primary
Backup
Melee
Special
Sniper
Heavy

Maps

Wear

Gadgets
Modes
Other

= Complete

Category page
Ad blocker interference detected!
Wikia is a free-to-use site that makes money from advertising. We have a modified experience for viewers using ad blockers

Wikia is not accessible if you've made further modifications. Remove the custom ad blocker rule(s) and the page will load as expected.