| | | | |
| --- | --- | --- | --- |
| | | This content is exclusive to Pixel Gun 3D. It isn't in Pixel Gun World! | |
The Exterminator Up1 is a Backup added in the 9.4.1 update on iOS and 10.0.0 in other devices. It is the 2nd form of the Exterminator.
Appearance
It is a railgun that sort of looks similar to a revolver. It has a golden handle with a brown bottom. The base is golden and blue, the ammo pack is blue, the 4x scope is golden with a blue crosshair (it is not blue, but white, when aiming down the sights), and the tip at the end is turquoise/teal. It also has a 4x scope and the wall break effect.
Strategy
It has extreme damage, a slow rate of fire, a small but decent capacity, and really good mobility.
Tips
Use the scope to aim for the head. Its best to use in mid-range combat and for ambushes due to its low firing rate.
The wallbreak can be utilized to kill players who try to break for cover.
It can kill unarmored or low-tier armored players in a single shot, go for the head of a high-tier armored player to maximize damage.
Counters
Run around the player in close range and attack with an area damage dealing weapon.
Attack users using this weapon, from behind them, if you can.
Pick off its users from long ranges while unsuspected.
Upgrades
Theme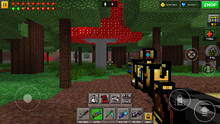 N/A
Supported Maps
Weapon Setups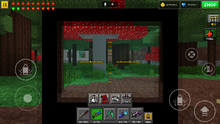 Have a short range weapon to attack in close range. It has wall break that can shoot through walls.
 Trivia
Ad blocker interference detected!
Wikia is a free-to-use site that makes money from advertising. We have a modified experience for viewers using ad blockers

Wikia is not accessible if you've made further modifications. Remove the custom ad blocker rule(s) and the page will load as expected.