| | | | |
| --- | --- | --- | --- |
| | | This content is exclusive to Pixel Gun 3D. It isn't in Pixel Gun World! | |
The Fire Demon Up1 is an upgrade to the Fire Demon introduced in the 9.0.0 update. It is located in the Melee section of the Armory.
Appearance
The blade looks yellow at the top, but it slowly gets darker when closer to the handle. The handle is orange coloured steel.
Strategy
Tips
Use this in melee range for tearing down enemy players.
Aim for he head to maximize the damage.
Use this for running, jumping, dodging and strafing due to its high mobility.
Go for the weakened players for better ammunition conserving and quicker kill registering.
While attacking, go forward and backward, left and right for your opponent to have a more complicated time on trying to kill you.
Counters
Pick off its users from a range that this weapon cannot reach.
Against strafers wielding this weapon, use a powerful Primary weapon.
Upgrades
Theme
Lava-themed.
Supported Maps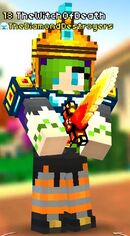 Weapon Setups
Have a weapon that can be used for close range (not melee) and higher.
Trivia
When killing a player, they will turn into ashes and then crumble into the ground.
This was an upgrade added to the Fire Demon in the 9.0.0 update.
Despite it being called Fire 'Demon', it is actually a sword and not a virtual enemy in PvE modes.
As of the 11.1.0 update, this weapon received the 'Burning' attribute.
It was slightly changed in the 11.2.0 update.