| | | | |
| --- | --- | --- | --- |
| | | This content is exclusive to Pixel Gun 3D. It isn't in Pixel Gun World! | |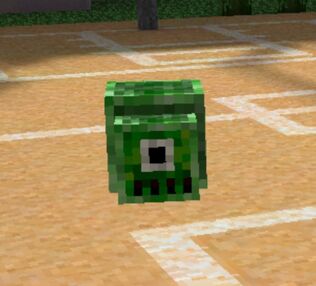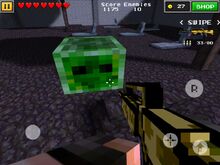 The Green Slime is a very common enemy found on many levels in the campaign.
Stats
Damage: 1

Health: 2-3

Speed: Fast
Appearance
It appears to be a green cube with a smaller green cube with a face coming out the front. It only has one eye and has 4 black 'teeth'. Its skin is a variety of many different shades of green. It has 4 cubes throughout its entire body.
Behavior
They will hastly crawl their way over to the player. At the last second, it will extend its "face" to "bite" or "head-butt" the player, dealing minimal damage.
Levels
Trivia
Enemies

Enemies
Bosses

= Complete

Category page