The Ice Mage is a ranged enemy found in Winter Island.
Stats
Easy
Health: 3
Speed: Moderate
Damage:
Medium
Health:
Speed: Moderate
Damage:
Hard
Health: 6-7
Speed: Moderate
Damage: 2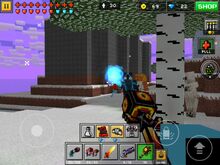 Appearance
The Ice Mage wears black colored robes covering his whole figure except his face. The black rode is also outline with a cyan blue color. The Ice Mage Also wields a staff that shoots cyan colored bolts. His face is all black except his eyes glow cyan blue.
Behavior
Much like any other ranged enemies in the game, it will approach the player and if there is a given distance. It will start to shoot slow-moving projectiles at the player.
Levels
Trivia
Like many other ranged monsters, it has been introduced in Campaign in the 10.0.0 update.
The staffs that they use are not in the game Armory meaning only ranged monsters can use.
It is somewhat similar to the Mummy Mage, Warlock, and the Skeleton Mage in terms of appearance, sound, and behavior.
Enemies

Enemies
Bosses

= Complete

Category page
Ad blocker interference detected!
Wikia is a free-to-use site that makes money from advertising. We have a modified experience for viewers using ad blockers

Wikia is not accessible if you've made further modifications. Remove the custom ad blocker rule(s) and the page will load as expected.