| | | | |
| --- | --- | --- | --- |
| | | This content is exclusive to Pixel Gun 3D. It isn't in Pixel Gun World! | |
The Infected Swamp Knight is an enemy found in Swamp.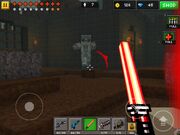 Appearance
Different shades of white ghost-like armor with red eyes peeking through. It looks like it has waist-length hair.
Behavior
It has decent maneuvering skills (as of 10.6.0 update, where its behavior is fixed). If the player gets its attention, it will run towards the player whilst taking the shortest route.
Stats
Easy
Damage: 2

Health: 8

Speed: Very Fast
Medium
Damage: 2

Health: 12

Speed: Very Fast
Hard
Damage: 2

Health: 16

Speed: Very Fast
Levels
Enemies

Enemies
Bosses

= Complete

Category page
Ad blocker interference detected!
Wikia is a free-to-use site that makes money from advertising. We have a modified experience for viewers using ad blockers

Wikia is not accessible if you've made further modifications. Remove the custom ad blocker rule(s) and the page will load as expected.