| | | | |
| --- | --- | --- | --- |
| | | This content is available in both Pixel Gun 3D and Pixel Gun World! If this is a game content, its counterpart is described in another article! | |

This article describes a Pixel Gun 3D weapon. If you are looking for the same weapon in Pixel Gun World, see Cubacca's Crossbow.
The Laser Crossbow is a Sniper weapon added in the 10.2.0 update.
Appearance
It is a golden crossbow with a wooden handle, silver nozzle and a blue tip in the middle of the nozzle.
It has a scope with blue lens. Near the barrel are 3 rings, similar to the Prototype.
Strategy
It has average to high damage (depends on your level), medium rate of fire, low capacity, and normal mobility.
Tips
This gun has a pretty good fire rate, so use it wisely to get some nice kill streaks.
Due to its high damage for lower levels, it can really be a great weapon to get.
Counters
It has a good fire rate, but its cooldown is long, so have an automatic weapon, like the Hellraiser.
Since some low leveled users may have this weapon for 'other' uses, they have a lower chance of hitting you.
Area damage weapons easily pick off its users, especially at close range, but be sure to retreat frequently or you may get hit.
Former Upgrades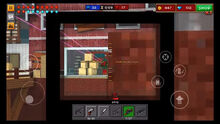 Theme
Star Wars-inspired.
Supported Maps
Weapon Setups
Have a good close range area damage weapon.
Trivia
This weapon is based off of Chewbacca's weapon in Star Wars, the Bowcaster.
In PGW, it is called the Cubacca's Crossbow, instead of the Laser Crossbow.
This weapon now has the "Wall Break" ability.
Sniper

= Complete

Category page
Ad blocker interference detected!
Wikia is a free-to-use site that makes money from advertising. We have a modified experience for viewers using ad blockers

Wikia is not accessible if you've made further modifications. Remove the custom ad blocker rule(s) and the page will load as expected.