| | | | |
| --- | --- | --- | --- |
| | | This content is available in both Pixel Gun 3D and Pixel Gun World! If this is a game content, its counterpart is described in another article! | |
This article describes a Pixel Gun 3D weapon. If you're looking for the same weapon in Pixel Gun World, see Marksman (PGW).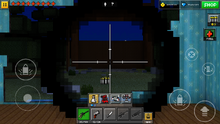 The Marksman is a Primary weapon introduced in the 5.5.0 update.
Appearance
It has a black and green front with a green stock, gray ammo clip, green handle, black scope, black grip, and a black barrel. It also has a thin and narrow rectangular 4x scope.
Strategy
It has good damage, a great rate of fire, good capacity, and good mobility. It's inaccurate at hip fire, but super accurate with the scope. Use it at medium and long ranges.
Tips
It should be used up close to an opponent, was its best to go for the head, as it can kill opponents with decent armor quickly.
It can drain its ammo quickly at a fire rate and capacity like its, so try using the burst method or weaken the enemy first to save enough ammo.
When using the scope, it is great at long ranges as long as you're not too close.
Counters
Strafe at medium range for easy and up-close shots against the enemy.
Explosive weaponry can easily defeat its users.
Due to its slight inaccuracy, it is effective in short ranges. Using the scope, it is effective in long ranges. Use its range limit as an advantage.
Pick off its users from medium ranges.
Due to its low ammo capacity, wait till the enemy is reloading, then gun them down.
Upgrades
Themes
N/A
Supported Maps
Trivia
It is based on the real world Steyr AUG A1 assault rifle.
It is one of the few weapons that changes its model as it upgrades.

However, this doesn't matter anymore as upgrades became absent in the 12.5.0 update.

The name "Marksman" was used, because it is great at long range but not at short ranges, like how sniper rifles work as a marksman's weapon.
Primary

= Complete

Category page
Ad blocker interference detected!
Wikia is a free-to-use site that makes money from advertising. We have a modified experience for viewers using ad blockers

Wikia is not accessible if you've made further modifications. Remove the custom ad blocker rule(s) and the page will load as expected.