The Parallel Bird is an uncommon enemy. It's similar to Bird. It is currently grey with red dashes found everywhere on its body.
Appearance
It looks similar to other bird enemies, but covered with the parallel element. It also has red eyes and a white beak, making it not look that much of an original bird.
Behavior
It will fly to you and peck you.
Maps
Trivia
It is formerly known as the "End Bird" and its texture changed due to the the Pixel Gun Company's copyright issues with Mojang.
The same thing with Parallel World (Deadly Games map), other formerly End enemies and the campaign world.
It has red specks on itself, similar to its landscape.
Gallery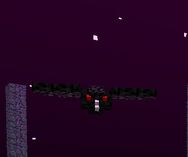 Enemies

Enemies
Bosses

= Complete

Category page