The Red Slime is an uncommon enemy, only found in the campaign level Hospital and in the Arena gamemode.
Stats
Easy
Medium
Hard
Behavior
It will approach the player and bite or head butt you, dealing some damage.
Levels
Appearence
It resembles a red cube transformed into a living object, it has a slight resemblance to a Slime in Minecraft.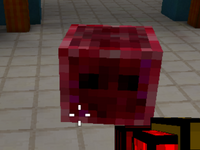 Trivia
Enemies

Enemies
Bosses

= Complete

Category page