| | | | |
| --- | --- | --- | --- |
| | | This content is exclusive to Pixel Gun 3D. It isn't in Pixel Gun World! | |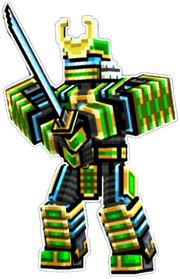 The Robot Samurai is a Support gadget introduced in the 13.5.0 update.
Appearance
The item itself takes the appearance of a neon green pack with light blue linings and a grey handle.
When activated, it transforms into a robotic samurai in neon green, blue, and grey armor. Its weapon of choice is a supersized and slightly reskinned version of the Last Samurai.
Strategy
When activated, it transforms into a robotic samurai. In this form, the user gains extra health, has the ability deal high amounts of damage and gains the ability to double jump.
Tips
You may save this gadget for when you are at low health. In certain situations, this could work similarly to the Resurrection.
Equip/activate this gadget when you are in a tricky situation where your enemies are at close ranges. Equip this for you to gain extra armor and hit your opponents at close ranges.
It is also useful in Capture the Flag due to the fact that this provides double jump and extra mobility.
Counters
Simply run away using your fastest weapon and attack from a distance.
Although this has several advantages over the Battle Mech, it is a melee type gadget, therefore, if you happen to have a Battle Mech in your arsenal, you can try to attack him/her from long range.
When activated, this has a slight area damage that can hit targets right front the user and slightly beside the robot.
If you have full health and armor or Resurrection you can charge at it using a high mobility weapon
Theme
Feudal Japanese/Futuristic themed.
Trivia
It is the first gadget to introduce the Double Jump attribute.
Its area damage is slightly different than the normal area damage physics. Instead, the area damage is more similar to the Storm Hammer physics, but the area damage is not a full 360° area damage, but rather somewhere between a 170° to 180° area damage.
It somewhat resembles the Silver Samurai introduced by Marvel Comics.
The theme to this weapon is very ironic. Samurais are a things of the past, and robots are futuristic. Combining the two makes it very ironic.