| | | | |
| --- | --- | --- | --- |
| | | This content is exclusive to Pixel Gun 3D. It isn't in Pixel Gun World! | |
Not to be confused with the Shield.
The Shield is a minigame item introduced in the 12.0.0 update.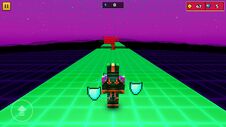 Appearance
It appears to be a crystal shield with crystal edges and a black outline.
Upon activation, the status will appear as the same as the Reflector's status.
Use
It is used to protect a player from being damaged by red walls and/or red spikes. Once they hit either one of those obstacles, the shield will disappear and they will have to continue on playing the game without using the shield.
The shield does not help when they die by falling off the map. The same consequence happens whether they activate the Shield or not.
Cost
A player is offered a Shield only once, which is at the countdown of Extreme Run. It costs 3

per round.
Trivia
It is the only useful minigame item in Extreme Run.
It has the same status as the Reflector status.

However, it does not reflect anything. It protects you from obstacles instead.
Ad blocker interference detected!
Wikia is a free-to-use site that makes money from advertising. We have a modified experience for viewers using ad blockers

Wikia is not accessible if you've made further modifications. Remove the custom ad blocker rule(s) and the page will load as expected.