The Skeleton is a common enemy. One can find these in Arena and in the Campaign levels.
Stats
Easy
Medium
Hard
Behavior
It will shamble towards you, arms raised. It does not have very good navigation, so it can become trapped or delayed with obstacles.
Appearance
It is a normal skeleton with white bones and red eyes. Although quite unusual, there is no empty space between bones, only black due to transparency problem.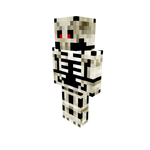 Levels
Trivia
Gallery
Enemies

Enemies
Bosses

= Complete

Category page