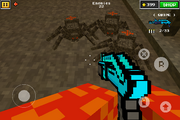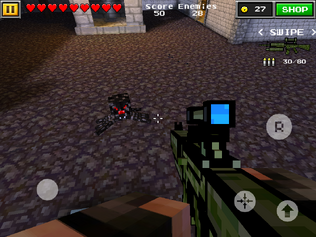 The Spider is a common enemy found in Campaign and Arena.
Stats
Damage: 1

Health: 1

Speed: Fast
Behavior
It will crawl towards the player, and attacks with its fangs and front legs when it gets close. It is also hard to be seen.
Appearance
It is small and mostly black with a red crosshair design on its back, resembling the black widow spider. It also camouflages to the ground.
Trivia
It can be killed with one shot with most if not all weapons.
It is based off of the black widow spider.
It is the enemy that guards the Spider Boss in Swamp.
The spider is the enemy with the lowest health.
The old version looks somewhat similar to the Spider from Minecaft.
Enemies

Enemies
Bosses

= Complete

Category page
Ad blocker interference detected!
Wikia is a free-to-use site that makes money from advertising. We have a modified experience for viewers using ad blockers

Wikia is not accessible if you've made further modifications. Remove the custom ad blocker rule(s) and the page will load as expected.