| | | | |
| --- | --- | --- | --- |
| | | This content is available in both Pixel Gun 3D and Pixel Gun World! If this is a game content, its counterpart is described in another article! | |
This article describes a Pixel Gun 3D weapon. If you are looking for the same weapon in Pixel Gun World, see Tesla Cannon (PGW).

The Tesla Cannon is a Heavy weapon introduced in the 10.0.0 update, which has 2 upgrades.
Appearance
It is similar to the Pumpkin Thrower with a reload clip that looks like the Prototype, High Voltage and some other guns. It also has a yellow body, with blue rings around the barrel.
Strategy
Use it in close range maps, primarily Nuclear City. The unstated area damage (especially the Up2 version) will kill groups of players. You will be able to use this from mid-long and long range if you can hold it steady, and can lead your shots if the player is moving. When in close range, aim for the chest or waist of the player. If in a group of players, aim for the middle player.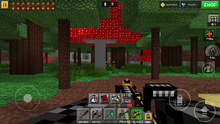 Tips
Use it in close to mid range to get a few kills.
Use ambush tactics at close range.
Wait for your opponents to get into a group fight, and then fire the gun at the group. Disappear, and wait for the next group.
Counters
Because of the unstated area damage, it is very hard to avoid at a close range. Plus, because it is unstated, it doesn't damage the user.  However, with a shotgun (i.e. the Heavy Shotgun, "Predator", or the Steam Power Up2) and/or melee weapon (especially the Fire Demon or Katana) you can take the user by surprise. Due to the slow mobility (100) and non-instant bullets, a kill is very likely. IF you don't have a good melee weapon, snipe the user with a sniper weapon, primarily with a 4x or 10x scope (i.e. the Guerrilla Rifle, Impulse Sniper Rifle, or Elephant Hunter).
Upgrades
Theme
Electric Themed.
Supported Maps
N/A
Weapon Setups
Equip a long ranged weapon like the Sub-zero and/or the Prototype.
Trivia
It shoots just like the Electro Blast Rifle, but it has a bullet travel time.
It has area damage but in the Armory it doesn't say that it has area damage. This was fixed in the 10.0.7 update.
It was removed in the 10.5.0 update, because this was replaced by the Spark Shark.

However. It was brought back in the 12.1.0 update.
Heavy

= Complete

Category page
Ad blocker interference detected!
Wikia is a free-to-use site that makes money from advertising. We have a modified experience for viewers using ad blockers

Wikia is not accessible if you've made further modifications. Remove the custom ad blocker rule(s) and the page will load as expected.