The
Venom Nurse
is a ranged enemy added in the 10.0.0 update that only appears in the 
Hospital
 campaign level.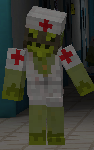 Appearance
She is green and has a green, pumpkin-like face with a torn, white shirt. She has a white, square hat with red cross, and she has no shoes on. She looks like a spitter version of Infected Nurse.
Behavior
She will limp towards the player, spitting a venom projectile when in range.
Stats
Her stats differ from each difficulty mode. Here are her differences from each difficulty:
Easy
Damage: 1
Speed: Slow
Health: 2
Medium
Damage: 1
Speed: Slow
Health: 2
Hard
Damage: 1
Speed: Slow
Health: 3
Trivia
Enemies

Enemies
Bosses

= Complete

Category page
Ad blocker interference detected!
Wikia is a free-to-use site that makes money from advertising. We have a modified experience for viewers using ad blockers

Wikia is not accessible if you've made further modifications. Remove the custom ad blocker rule(s) and the page will load as expected.