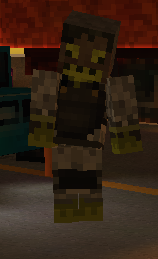 The Venom Soldier is a enemy introduced in the 10.0.0 update. It can be found in the level Bridge in the Pixelated World campaign. It can also be found in Co-op Survival, but with no arms.
Appearance
It is green with an unusual looking face and it wears a grey camouflaged army uniform with long sleeves, a black vest, and black knee pads. The venom shot from its mouth is also green. In Co-op Survival, it has no arms.
Behavior
It will limp towards the player and when it is at a close enough distance it will spit venom out of its mouth in an arch. In Co-op Survival, it's venom is spit straight forward, like the Injured Spitter.
Stats
Easy:
Damage: 1
Speed: Slow
Health: 3
Medium:
Damage: 1
Speed: Slow
Health: 3
Hard:
Damage: 1
Speed: Slow
Health: 3-4
Trivia
Its venom can pass through walls.
It is somewhat similar to the Venom Spitter, the Venom Nurse, and the Injured Spitter in terms of stats, behavior, sounds, and appearance.
Its uniform look similar to the Rocket Soldier or possibly it is infected version of him.
There's an armless version of Venom Soldier in Co-op Survival.
Enemies

Enemies
Bosses

= Complete

Category page
Ad blocker interference detected!
Wikia is a free-to-use site that makes money from advertising. We have a modified experience for viewers using ad blockers

Wikia is not accessible if you've made further modifications. Remove the custom ad blocker rule(s) and the page will load as expected.