Subcategories
Accessories Go to this subcategory. Armor Go to this subcategory. Skins Go to this subcategory.
Description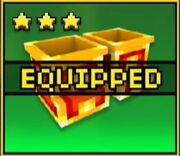 Wearable Items, also known as "Wear" are items that can be bought in the Armory in both Pixel Gun 3D and Pixel Gun World. 19 accessories, the armor and about 50 skins appear in both Pixel Gun games.
When a wearable item is equipped in the Armory, they will appear as worn items on a player's character, which is why wearable items are used to accessorize players and to give them minor advantages.
Wearing them will not affect the players' first-person appearances. However, they can easily notice that their personal gameplay is improved, in terms of acceleration, damage dealing, jumping or miscellaneous advantages, depending on the chosen wearable item(s).
Pixel Gun 3D
There are 13 accessories and 75 skins exclusive to Pixel Gun 3D.
Pixel Gun World
There are 8 accessories, 2 armor sets and about 25 skins exclusive to Pixel Gun World.
Trivia
Wearable items are disabled in Extreme Run and Parkour Challenge.
Pixel Gun World has more armor sets than Pixel Gun 3D.

However, unlike in Pixel Gun World, Pixel Gun 3D has more upgrades for the armor set that exists in both games.
This category lists all of the wearable items in both Pixel Gun 3D and Pixel Gun World.
Wear
Ad blocker interference detected!
Wikia is a free-to-use site that makes money from advertising. We have a modified experience for viewers using ad blockers

Wikia is not accessible if you've made further modifications. Remove the custom ad blocker rule(s) and the page will load as expected.