| | | | |
| --- | --- | --- | --- |
| | | This is a removed content. It is no longer available in Pixel Gun 3D. | |
| | | | |
| --- | --- | --- | --- |
| | | This content is exclusive to Pixel Gun 3D. It isn't in Pixel Gun World! | |

The Winged Boots were one of the boots in the the 5.5.0 update. They were found in the Accessories section in the Armory.
Appearance
The Winged Boots have a golden color with miniature white wings poking out at the sides. It is surrounded by blue and red gems attached to the purple lining.
Former Appearance
The Winged Boots looked like light gray boots, with a blue gray outline on the top of each boot, with golden wings.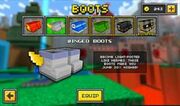 Strategy
Effects
These boots when worn give you 20% jump boost.
Tips
Counters
Use Heavy weapons on its users.
Trivia
The Pixel Gun Company changed the look of this accessory in the 8.3.0 update, giving it a more professional look.
The Pixel Gun Company renewed the name and look of the boots in the 9.0.4 update, making it look like boots with bullets and wings on the side.
It is now called the Storm Trooper Boots.
These are the only boots that still give their old effect and another effect to the Storm Trooper Boots.
These boots look like the ones that Hermes (a greek god) wear. Hermes is the god of so many things that it would be easier to list off what he's not the God of.
Removed Content

Weapons

Primary
Backup
Melee
Special
Sniper
Heavy

Maps

Wear

Gadgets
Modes
Craft Items
Other

= Complete

Category page
Ad blocker interference detected!
Wikia is a free-to-use site that makes money from advertising. We have a modified experience for viewers using ad blockers

Wikia is not accessible if you've made further modifications. Remove the custom ad blocker rule(s) and the page will load as expected.