For the weapon, see Zombie Head (Weapon).
The
Zombie Head
is a common enemy that can be found in the 
Bridge
,
City
, and
Arena
modes.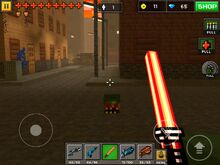 Stats
Easy
Medium
Hard:
Behavior
It will keep on hopping towards and it will "throw" itself at the player, dealing damage. Keep your attention to the ground when on levels containing this enemy because it is way smaller than you.
Appearance
It is normally a "decapitated" head from an Injured Zombie.
Levels
Trivia
Enemies

Enemies
Bosses

= Complete

Category page
Ad blocker interference detected!
Wikia is a free-to-use site that makes money from advertising. We have a modified experience for viewers using ad blockers

Wikia is not accessible if you've made further modifications. Remove the custom ad blocker rule(s) and the page will load as expected.